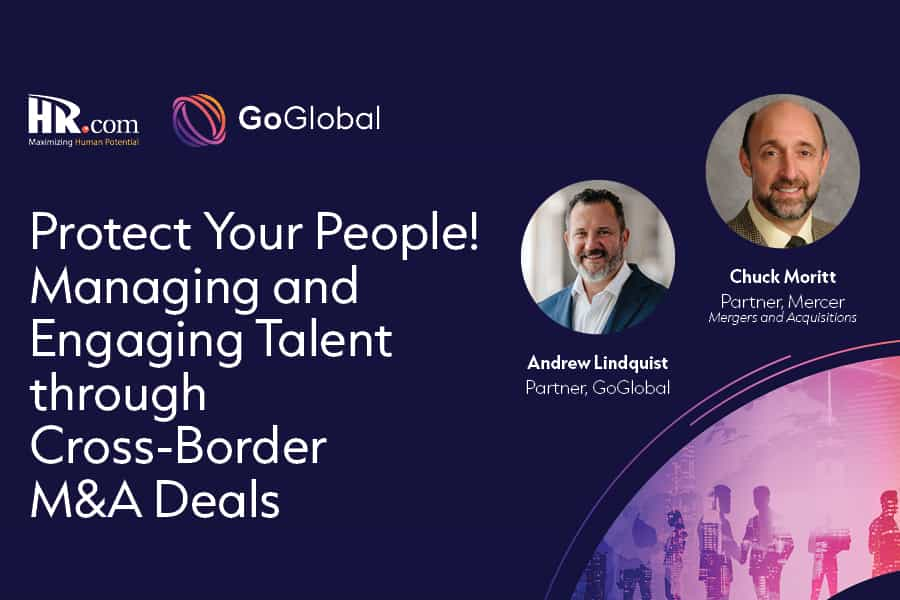 Protect Your People!

Managing and Engaging Talent through Cross-Border M&A Deals
In today's world of business, more companies are turning to cross-border mergers and acquisitions (M&As) to expand operational footprints, mitigate risks and improve overall financial performance.
How you manage talent before, during and after a transaction can make or break the deal. Success hinges on making sure you have the right talent before a deal takes place and that the acquired team is fully integrated, motivated and on board to contribute to your business goals.

In this webinar, learn from two experts with decades of M&A experience through the HR lens and who know what companies need to do to navigate engagement and international HR issues before, during and following a cross-border M&A deal.

Andrew Lindquist and Chuck Moritt will share case studies from their own experiences with cross-border, high-value deals, as well as discuss key issues like the "acqui-hiring" trend and the dilemma of "orphaned employees."

If your organization has a growth by M&A strategy, this session will show you how you can empower people – the most important asset – throughout the M&A lifecycle.